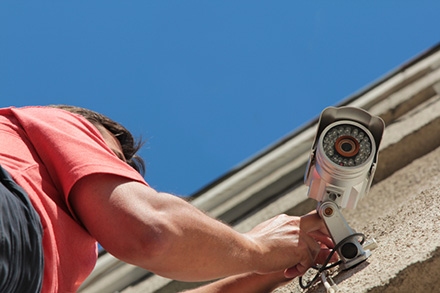 Protect your business with our security camera systems. Geeks 2 You now provides IP based security cameras for your office, or residence.
Geeks 2 You will install your security and surveillance cameras for an affordable price. We specialize in IP camera systems and  network recording systems for both homes and businesses. We can even set you up to monitor your home or business from any computer or cell phone.
With high-quality DVR's to record weeks' worth of activity, you will be 100% protected. Watch the cameras from across the world, while you are on vacation. Get email notifications if there is movement in the room during closed business hours. We use a combination of DVR and Camera systems, custom made to your application. Need a simple 2-4 camera setup? Need a custom built NDVR server that can record from multiple locations, while providing advanced encryption and security measures? We can handle it all.
Whether you just need installation services or would like us to design and install a system tailored for you, a Geeks 2 You surveillance specialist can help.
Our technicians are trained and experienced and will not compromise on quality service and workmanship. Our work is 100% guaranteed.
Give us a call to discuss how we can help.