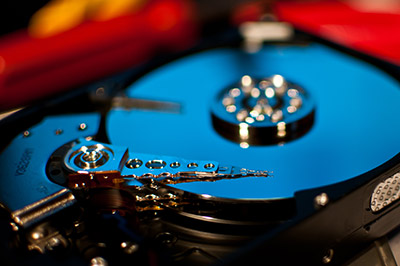 We have found that the majority of computer users and many computer technicians often do not understand data loss. Many consider lost data (even deleted files, formatted, partitioned over, operating system reinstalled, or system disk restore) to be permanently destroyed, with no hope of recovery. This is simply not true.
Geeks 2 You can provide heavy duty data recovery. Our computer repair experts specialize in data recovery and can employ every known method to recover your lost data. Think you may have lost your kids photos, important legal documents or the business proposal you have been writing for several months? Think again! We can help recover your lost data.
It is in our experience that 95% of the time, we can recover the data without sending the media to a class 100 clean room(a very expensive process!). Even if none of our methods work, the cleanroom method will, just at a much higher cost. We can help with the cleanroom repairs as well!
When data appears to be lost or inaccessible, you need fast and reliable service. We are experts in providing advanced data recovery services. We can recover data no matter how the loss occurs. From accidental deletion, hardware crash, data corruption, dropped hard drive, or improper shutdown leading to data being corrupted. Geeks 2 You can handle it all.
Our Data recovery services quickly access the most efficient and economical way to recover your valuable data and files. We understand that pictures of your kids or your business proposals mean a lot to you.
RAID Data recovery cases receive high priority at our office, because we know that your database is critical to your business.
It is common practice to back up your data, however in most cases it has failed for some reason. It then becomes important that the data is properly recovered. Once we have recovered your data, we will go over with you different ways to back up your data. We can help you select the best method for you. Please check our Backup Solutions section for more information.
We specialize in the following scenarios:
Deleted Files:
We use industry leading and proven software to deep scan hard drives and recover deleted files. If you accidentally deleted an important document or photo, we are able to recover it quickly and easily.
Accidental Formatted Hard Drives:
In case you may have accidentally reformatted your hard drive, we are still able to recover the data! We utilize special software that can handle this exact scenario. Just stop the format or install of Windows as soon as you realize what has happened.
Failed or Unrecognized Hard Drive:
Most failed hard drives are fixable. They require more work, however we are very successful at getting the data off of the failed hard drive.
Dropped Hard Drive:
If you have dropped your laptop, or your USB external hard drive, we can still get it to work and get your data off of it.
Corrupted Data:
We have a tool that will scan the surface of the hard drive for defects and can fix them. It utilizes a write and rewrite method that will find corrupted areas and mark them so they will stop being used. It will also recover the corrupted data and make it readable again.
Tips for a more successful Data Recovery:
For all these different types of recovery, the tips are the same. Turn off and stop using your computer immediately after realizing may need data recovery. Call us as soon as possible. Data recovery gets harder as time goes on, and less successful the more a computer has been used. If you started a reformat, stop it immediately! The further it goes along in the process, the harder and longer the recovery may take.
Class 100 Cleanroom Repairs:
Geeks 2 You is now partnered with DriveSavers Data Recovery for all class 100 cleanroom repairs. This is for the critical data, that can't be recovered using normal techniques. They specialize in worst case scenerios. Use our reference code when communicating with them for free shipping both ways, 10% discount on repair price, and no charge if the repair doesn't work out. Our referral code is: DS26266